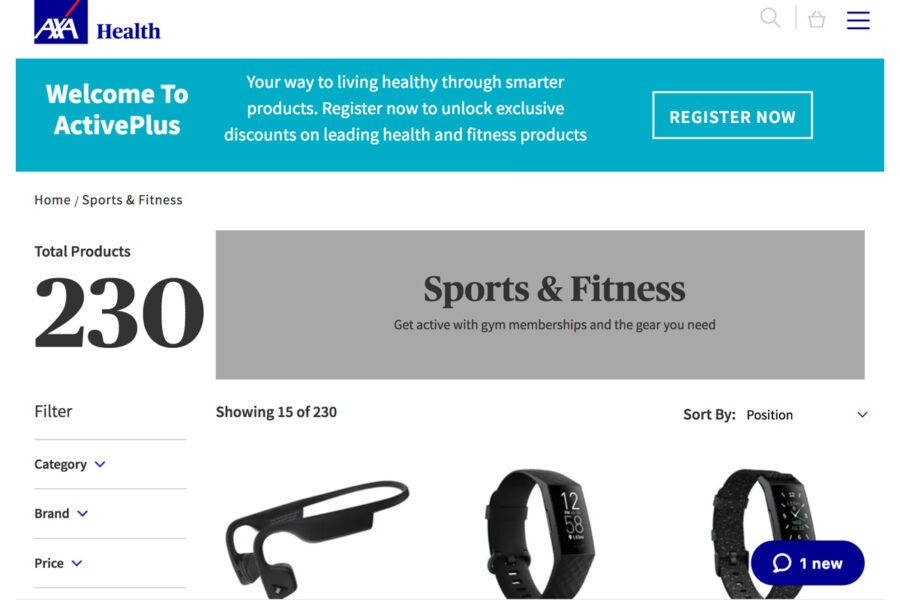 AXA ActivePlus perks for all Equipsme members
Did you know that Equipsme plan holders can access a whole host of benefits and rewards through AXA's ActivePlus scheme?
Exclusively for AXA Health members – and now Equipsme members – ActivePlus brings together more than 2,000 products designed to help people look after their health, offering special discounts and deals.
Whether you're looking for a new water bottle or Bluetooth headphones, kids' swimming goggles or a fitness tracker, probiotic supplements or a pelvic floor trainer - OR you'd like an experience like a spa day, afternoon tea, or tank diving - there's something on ActivePlus for anyone and everyone who wants to look after themselves, and their families.
Last year more than 15,000 people started their fitness journey with ActivePlus gym memberships - and there's currently 50% off an annual PureGym membership. And if you're not quite ready for the gym, you can get a virtual personal trainer to create you a one-month fitness plan to follow at home for just £14.
Once you're signed up, you can start shopping, and you'll get a regular newsletter with all the latest offers. It's a great way to get money off taking care of yourself.
How do I sign up?
As an Equipsme member you've also got an AXA PPP membership number you can use to create your own ActivePlus Account.
Step 1
Login to your Equipsme Members Portal and find your AXA PPP membership number on the 'Your Plan' page.
Step 2
Go to www.axaactiveplus.co.uk and register using you AXA membership number, leaving the Company Code field blank.
Step 3
Start shopping and get healthy!
We'd love to hear about any of the ActivePlus products or perks you've found and would recommend to other members. Send us a message at members@equipsme.com.