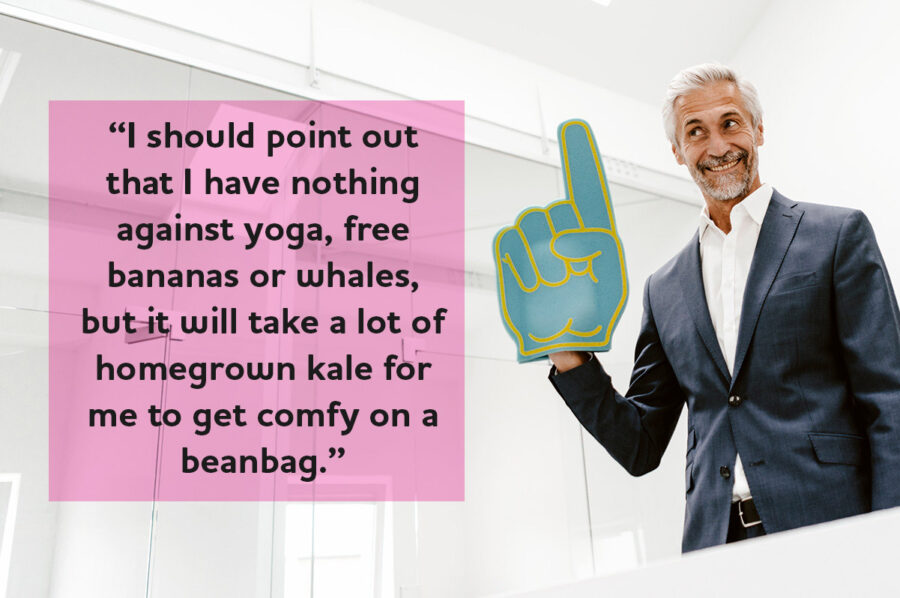 Nine ways to improve staff health
Nine no nonsense ways to improve staff health and productivity – and not a hippy in sight.
When did HR get so hippy dippy? I recently put out a call on an online business forum asking for tips on how SMEs can help staff strike a better work/life balance and improve the health and productivity of employees. Then, all of a sudden, things got pretty far out.
You can introduce morning yoga, meditation, mindfulness or 'gratitude' sessions, suggested HR experts and the 'head of vibe' (yes, really) at one London start up. Others said free fruit, bean bags in breakout areas, gym memberships and office allotments can help achieve office equilibrium. I was expecting someone to suggest piping whale music into the office.
First, I should point out that I have nothing against yoga, free bananas or whales, but it will take a lot of homegrown kale for me to get comfy on a beanbag. Such things may make for a more salubrious working environment, but if you're serious about wellbeing in the workplace, they can only ever be an addition to more concrete measures.
And you should be serious about this. Work related stress is the biggest cause of staff absence in Britain, according to the Health & Safety Executive. Doing the downward dog and a bit of deep breathing isn't going to fix this. So, here are nine no nonsense steps to take before you consider rolling out the yoga mats and firing up the whale music…
1 - Offer confidential stress support
Stress matters. The Mental Health Foundation estimates that work-related stress has a greater impact on our mental health than any other factor. This, in turn, is hitting Britain's productivity, which is growing at the slowest rate in the developed world.
"Many businesses are facing an important number of burnout cases and rising absenteeism due to high stress among their staff," says Dr David Plans, CEO of BioBeats, a company that's applying machine learning to stress management. "This comes at a high price – sick staff with poor physical and mental health cost UK businesses over £77 billion each year."
Clearly, employers need to be mindful of the impact stress can have on staff wellbeing and overall productivity. Consider health insurance plans that offer staff confidential access to stress management and counselling services.
2 - Switch off
Our 'always on' culture has a lot to answer for. Of course, leaps in communication technology have transformed the world, but it hasn't all been positive. Fifty nine per cent of Brits regularly take work calls outside of working hours and 55% reply to emails.
"We get trapped into the expectation of instant responses," says Shaun Thomson, CEO of business development consultancy Sandler Training. "In reality, in most occasions we can take more time to respond."
You, as the boss, should stop emailing out of hours, because your actions will set the tone for how everyone else in your organisation will behave. Implement an email curfew after which work emails cannot be sent or received. Switch off the phone.
3 - Take holidays
It sounds obvious, but it needs saying. In 2018, British workers took just 62% of their holiday entitlement, according to a poll for Glassdoor. Forty per cent took less than half their entitlement. So, take your holiday.
That means you. "Leaders need to let their people know that it's ok to disconnect when they are away and the best way to do that is to demonstrate it yourself as a leader," says HR strategist and author Rita Trehan. "Take holidays and stay disconnected."
4 - Help staff see a doctor if they need one
We're all having to wait longer before we can see a doctor in Britain. The average wait to see a GP after first contacting them was 15 days in 2018. 43% of workers want to see a doctor on the day they call but only a third get an appointment on the same day. Ten per cent get one the following day. A staggering one in four have to wait for at least a week.
This drives many to consult Dr Google. Anxiety caused by Googling symptoms is costing the NHS £420m a year in unnecessary appointments, a recent study found. Consider a health plan that gives access to a doctor, to save your staff the stress of a Dr Google misdiagnosis and the peace of mind that symptoms have been checked out by a professional.
5 - Offer flexible working hours
Striking the right work/life balance is an important factor for 95% of job seekers, according to research by Fuze. Thirty per cent say they want flexible working hours to allow them to better manage family duties and 89% say offering flexible hours should be seen as a given, not as a perk. Offering such allowances will allow you to attract and retain the right staff.
6 – Be a slave to your diary
That doesn't mean placing work above all else, says Thomson at Sandler Training. "Schedule time for yourself, for time with your family, partner and children," he says. "Treat these meetings with the same respect as you would a client meeting and don't cancel it if something else comes up. That time has already been scheduled and it's important."
This won't just help keep stress levels down, it could also help keep your significant other happy. A recent study found that frequent off duty email checkers believe their habit causes few problems at home. Their other halves thought otherwise: a significantly higher number of spouses said out of hours email activity caused marital strife.
7 – Encourage staff to take micro breaks
I don't mean take up smoking. But there could be something in the idea that smokers are more relaxed at work (and less prone to back problems) because they regularly get up from their desks to indulge in a puff. A recent study suggests that humans go from full focus to physiological fatigue every 90 minutes, a cycle that can be reset by regular, short breaks.
8 - Adopt 12-hour days
That's what Joel Beverley, co-founder of staff scheduling software firm RotaCloud did at the beginning of 2019 (well almost, its offices are now open for 11 and a half hours a day). Of course, he doesn't insist staff work all those hours, though.
"We allow our staff access to the office any time between 7:30am and 7pm," says Beverley. "Since combining our flexible working policy with extended access hours, our staff have reported being far more engaged in their work, and able to work at a pace that suits them.
"Instances of staff taking half-days in order to squeeze in things like doctor's appointments or taking their pets to the vet have decreased significantly and journeys to work are now far less stressful, with roads and trains less crowded."
9 – Adopt new technology
Just don't become a slave to it. New block chain technologies can make accessing information and keeping track of accounts easier and less time consuming. Health apps such as Thriva can help busy staff keep track of vitals and monitor fitness. And if you really want to go down the mindfulness route, you could even get your staff the Headspace app.