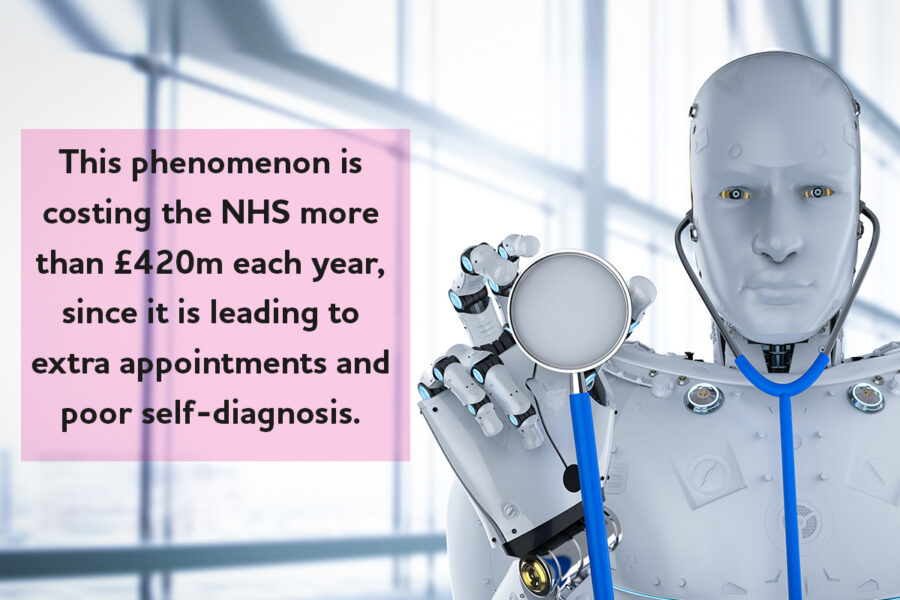 Cyberchondria
How googling your symptoms is causing employee anxiety
More and more people are suffering from 'Cyberchondria' – the anxiety you get from googling your own medical symptoms rather than getting professional medical help.
However, looking for medical information online can often create the illusion of a more serious illness and it can lead to a lot of worry and anxiety for the individual.
This phenomenon is costing the NHS more than £420m each year, since it is leading to extra appointments and poor self-diagnosis.
In fact, research carried out by Imperial College London states that 1 in 5 appointments result directly of googling your symptoms and making false conclusions.
Equipsme investigate the rise in cyberchondria, the role of daily life and how your organisation can reduce it.
What does cyberchondria mean?
Cyberchondria refers to googling your medical symptoms and getting anxious by what you read, rather than getting medical attention.
According to research from Pew, 72% of people that use the internet will look for medical information online.
Whilst some people can take any online medical advice on the chin, some can take it a little too far and get anxious believing that they have a serious illness, which often may not be the case.
A real issue is that the information found through searching on Google is not always backed up by medical professionals.
Does daily life put us at an increased risk of cyberchondria?
The stress of daily life is not helping the risk of people and staff members suffering from cyberchondria. Around 43% of people would prefer to see a doctor on the same day but the average Briton has to wait up to 13 days for an appointment.
Therefore, it can be easier to google your symptoms and having quick access to the internet is only contributing to cyberchondria.
Researching online has now become a more popular option than calling the NHS helpline 111 or going to a pharmacist, according to an NHS survey.
How companies can protect staff and their firm from cyberchondria
Equipsme offers a solution to cyberchondria. We proudly offer low cost health insurance plans for your organisation, helping your staff to get access to medical attention quickly, rather than relying on Google to diagnose their symptoms.
Our health insurance and wellbeing packages can be used by companies with 2 staff or even hundreds or thousands of staff too. There are different levels of cover available, all including a range of practical benefits. All plans include GP Access 24/7 and a Nurse Helpline, so your staff can always speak to a medical professional when they need one.
For those suffering with anxiety and stress, our health insurance packages include counseling and therapy options too.