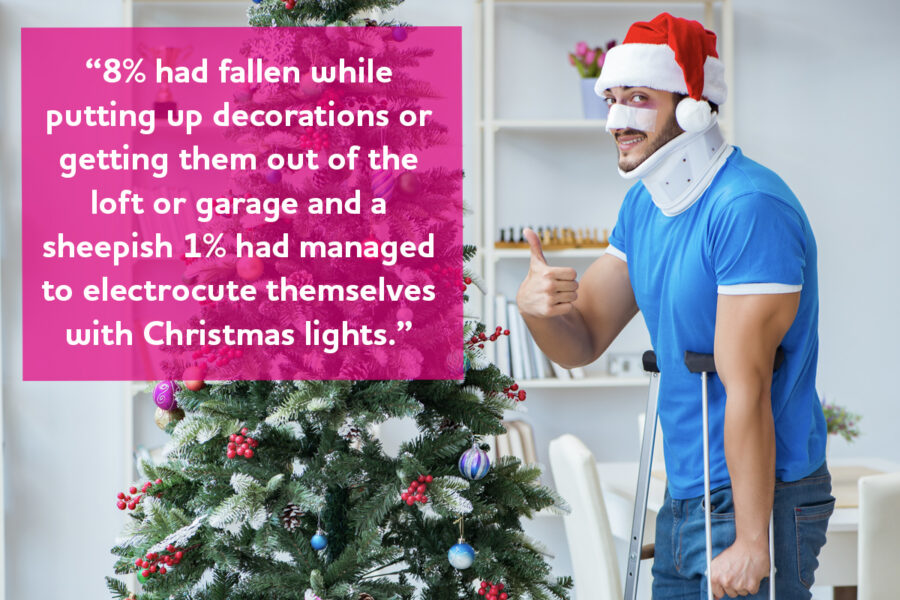 Black and Blue Christmas
More than half of Brits admit to Xmas accidents and illnesses.
The most wonderful time of the year can also be an unexpectedly dangerous time of year – with more than half of Brits admitting they've suffered Xmas accidents or illnesses.
While the most common seasonal ailment was the common cold or flu – something 40% of Brits had suffered over Christmas - nearly a quarter of us had also slipped on ice or snow, and 18% had had indigestion after over-indulging.
In the Equipsme survey, another quarter of Brits were found to have experienced a stomach bug or food poisoning over Christmas – presumably as the Turkeys fought back.
In fact, the kitchen was very much a festive Danger Zone – with 21% of Brits suffering an oven, hot fat or other burn, and 11% cutting themselves while chopping or carving.
Meanwhile, 8% had fallen while putting up decorations or getting them out of the loft or garage, 2% admitted to suffering a wrapping injury, and a sheepish 1% had managed to electrocute themselves with Christmas lights.
Matthew Reed, Managing Director at Equipsme said: "Clearly Christmas is out to get us, and there's every reason to expect Christmas 2020 to live up to the rest of this rather vindictive year!
"In all seriousness, Christmas is a time when we're out of routine, doing different things, and when we've finally come to a halt that's exactly when accidents happen, and when the rest of the year catches up to us and we succumb to illness. For many people, it's also not a particularly wonderful time, anyway.
"At Equipsme, we really want to remind our members that we're here for them. They can use our 24/7 GP service to see someone out of hours from the comfort of their own home – whether that's for a temperature, indigestion, a turned ankle or a bruised coccyx. They can use the nurse advice line to get advice on how to treat that burn. If Stress Support is part of their package, there's someone there to talk to if the gap between Christmas expectations and reality just gets to be too much.
"At Equipsme, we believe health insurance is your ultimate, everyday back-up. But whether you wish it was Christmas every day or not, it's a great time of year to have it in your corner.
We're wishing everyone a happy, healthy, and safe Christmas. Good luck out there, Christmas soldiers."