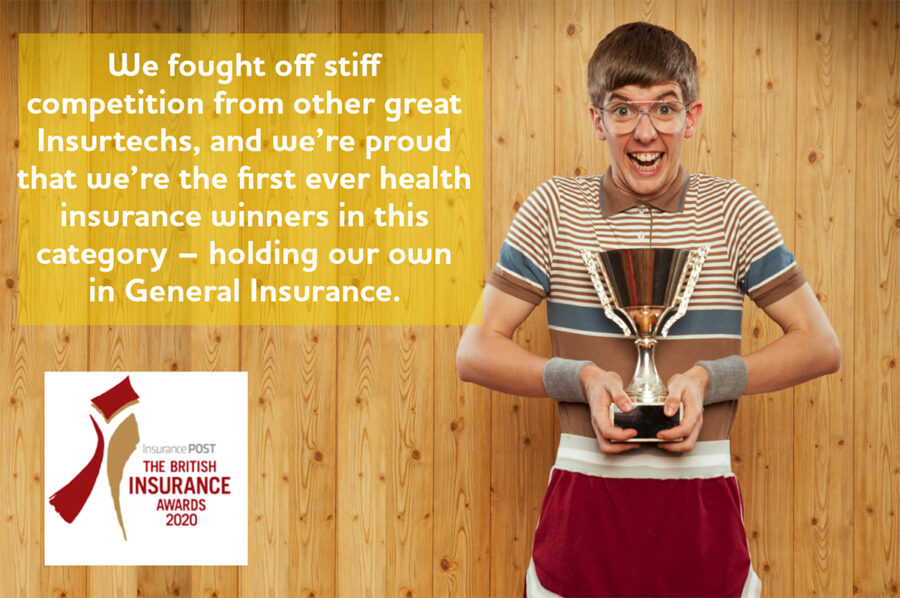 British Insurance Awards WIN for Equipsme
We're very happy to announce that last night we won the Insurtech Start-up Award in the 2020 British Insurance Awards.
The Awards are a major event in the insurance sector, aiming to highlight and honour innovation and achievement.
We fought off stiff competition from other great Insurtechs, and we're proud that we're the first ever health insurance winners in this category – holding our own in General Insurance.
According to the judges, we won for creating a simple, sustainable and affordable health insurance product - with a focus on prompt and flexible access to professional advice.
Managing Director Matthew Reed said: "I'm always really proud when what we do is recognised, but for us the British Insurance Awards really is the one to win. It's like our version of the Oscars!
"Granted, we didn't get to do the glitzy ceremony in the Royal Albert Hall where the BIAs are usually held, or rub shoulders with the celeb hosts and the good and the great of the insurance world, but winning the Award is still something I can now scrub off my bucket list. It's absolutely brilliant."
The ceremony was held online this year and was hosted by the Post's Jonathan Swift with comedians Josh Widdicombe and Tiff Stevenson keeping the virtual audience entertained.
The win comes hot on the heels of being Highly Commended in the recent Cover Awards for Best Group Private Medical Insurance.
"It's great to be able to say that we deliver an award-winning product and service," says Matthew. "We know that what we do really works for businesses and the self-employed, and now we know the industry knows it, too.
"Insurtechs don't have an easy ride, but now really is our time to shine. If ever there was a year where digital access and built-in sustainability were key it's 2020. And I think that's what really made us stand out."
Find out more about the British Insurance Awards winners here.