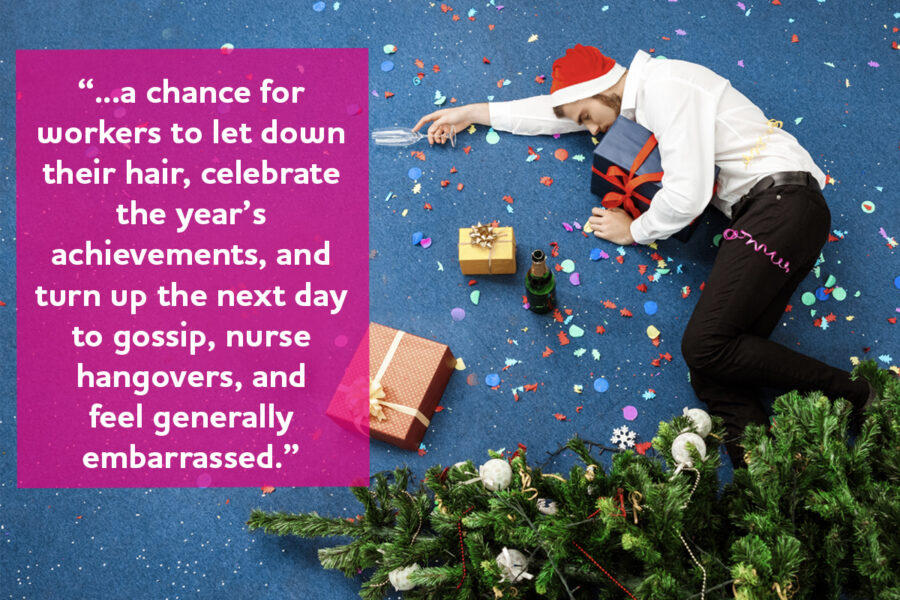 Christmas Dos become Christmas Don't Bothers as the pandemic pulls parties
Most employees will have no Christmas party at all this year – and most of us are quite pleased about it.
The Christmas Do has long been a British workforce institution, and a chance for workers to let down their hair, celebrate the year's achievements, and turn up the next day to gossip, nurse hangovers, and feel generally embarrassed.
But not this year. A survey of 618 employees found that more than two thirds (68%) will have no Christmas Do at all. Some 11% are having informal drinks via video and 7% something more organised, such as a virtual wine tasting.
Covid has cancelled many Christmas activities, but it turns out the Christmas Party isn't one that's being particularly mourned or missed.
Less than half of us actually enjoy a Christmas party in normal times – with nearly a quarter of us admitting we don't enjoy it at all.
Of those whose workplace is planning a virtual Christmas Do for 2020, some people were most definitely feeling Zoomed out - with 20% of them not looking forward to it or actively dreading yet another video conferencing event.
Only a quarter of working Brits turned out to be proper virtual party people who said they were really looking forward to it.
The national survey was conducted on behalf of affordable health insurance providers Equipsme. Managing Director, Matthew Reed says: "It could be that Covid has killed the Christmas party for good, and that may not be altogether a bad thing. The fact is the Zoom Christmas Quiz isn't everyone's cup of tea, pint, or babycham, and nor is the traditional Christmas party.
"This year has really made businesses of all sizes think differently about how they value, engage, and look after their people. The budget they save on a party could be repurposed to something worth more to workers this year of all years – and we think healthcare benefits should be on the radar for more businesses.
"Our message is, don't bother with the Christmas Do – do something different instead.
"You can get started on an Equipsme plan for £7 per person per month, with practical benefits we actually want workers to USE. It means instead of putting off that trip to the doctor they can book it on the bus from the app and be talking to someone from home within a matter of hours. It means they can get that physio appointment they've been waiting for. They can check on their cholesterol levels with a finger prick test. They can call the nurse advice line at midnight on a Saturday night about one of the nippers with a fever and work out whether it's time to go to A&E.
"Health insurance can take a significant burden of worry off people's shoulders. It can also take some of the burden off the NHS, too. After the year we've all had, that in itself has got to be pretty high on all of our Xmas Wish Lists."