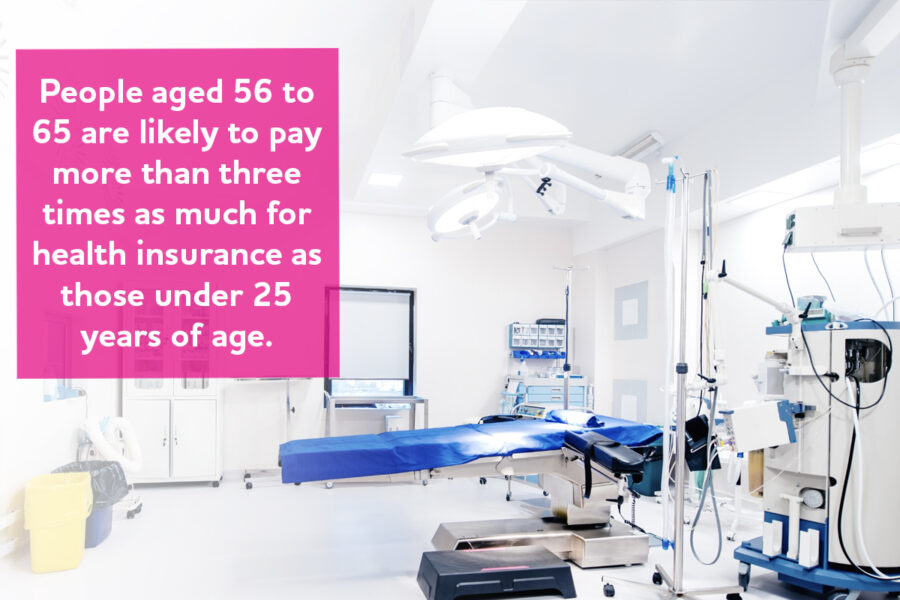 What is the average price of health insurance in the UK?
According to a 2018 report by BoughtByMany, the average cost of health insurance in the UK was £1,435 per year* – however, this can depend largely on things such as your age and health.
The cost of health insurance typically increases with your age as you are more likely to need medical treatment. People aged 56 to 65 are likely to pay more than three times as much for health insurance as those under 25 years of age.*
What affects the price of an average health insurance policy?

Age
 Your age is one of the biggest factors that determines the cost of your health insurance, on the basis that you are more likely to require treatment as you get older. Whether it is for diagnostic treatment or being more prone to injuries, the likelihood of making a claim rises with age.
 Your location
The area you live and its postcode can affect the price of your health insurance, with areas around London likely to incur higher premiums and areas further north and in Scotland and Northern Ireland offering the lowest premiums.
Being in a heavily populated area with high levels of traffic and congestion can contribute to more health conditions, when compared to living in a quiet rural area.
 How often you claim
For companies or individuals that have a habit of claiming often, this is something that your insurer may take into consideration when you renew or apply for a new policy.
Your policy may also have a no claims discount if you go several years without making a claim, although you could see your renewal premium increase by 20%, 30% or more once a claim is made.
Smoking
Some health insurers may charge more for those customers that smoke, also taking into consideration their age, current health and how much they smoke.
How can you reduce the average cost of health insurance you pay?
There are a number of ways to reduce the cost of your health insurance policy. Some people can benefit from business health insurance and other work schemes through their employer. This is treated as a benefit in kind from the employer, so you do pay income tax on it as it is considered to be a gift from the employer to the employee. However, that tax amount will still only be a fraction of what you would have to pay if buying an individual policy yourself.
If you can make use of a no claims discount, this can offer a significant saving, but will require you to continue without making a claim (when you have bought an insurance for that purpose!) and if you do, your renewal premium may increase significantly.
Adding your partner/spouse to create a joint policy, can be more cost-effective than purchasing an individual policy, especially under an employer's plan.
Equally, some health providers charge more for paying in monthly instalments, since you are paying for the convenience of spreading repayment, so you might save if you can pay in one lump sum each year.
Finally, if you can afford to pay a higher excess, you are essentially willing to pay more of the costs if you need to make a claim - and your insurer may reduce your price as a result. However, you are committing to finding £100s or £1000s of your own money every year that you claim.
Sources*:
Cost of private health insurance - https://boughtbymany.com/news/article/private-health-insurance-cost-uk/
Cost of health insurance increases with age: www.moneysupermarket.com/health-insurance/