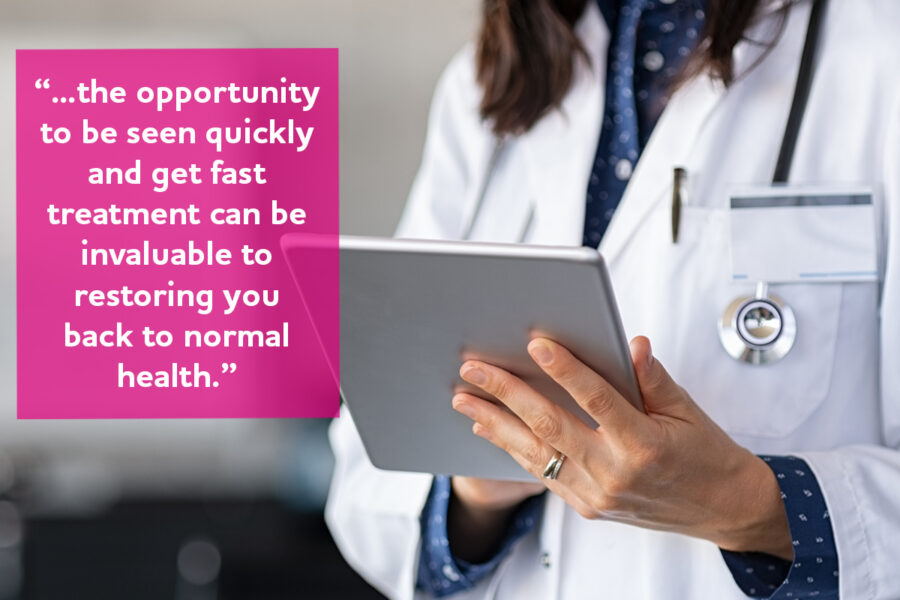 Why should you get health insurance?
With around 4 million people in the UK benefiting from health insurance policies every year*, there are a lot of benefits that make it a good investment for businesses or individuals who are considering it.
Not only can it take pressure off the NHS, but you can often get access to faster treatment, private rooms and it is good to cover large medical bills.
The main advantages of getting health insurance include:
Shorter waiting lists
Access to faster healthcare
Clinic or consultant choice
Add family members
Good for large medical bills
Get a private room
Specialist diagnostics and treatment
Access to physiotherapy is faster
Additional perks and benefits
Shorter waiting lists

For those without private health insurance, NHS waiting lists can be long and this can prolong medical issues and mean that it'll take longer to get better.
The NHS website explains that if you require urgent care, you have the right to be seen immediately – but for non-urgent referrals, there is an average waiting time of 18 weeks which can be too long for your aches and pains.
By comparison, having private health cover can often get you seen within days of a call for an appointment.
Access to faster healthcare
When you have private health insurance, you have the option to use the NHS or seek private treatment from a clinic or consultant that can be booked for you.
With health insurance, you can usually phone up and get appointments faster, according to your own availability.
In the event that you have something serious or are suffering in pain, the opportunity to be seen quickly and get fast treatment can be invaluable to restoring you back to normal health.
Clinic or consultant choice
Some health insurance policies allow you to choose which clinic or consultant that you would like to go to, helping you choose somewhere local or recommended to you, and the appointment booking can often be done for you.
This will depend on the insurer and policy, for instance, Equipsme is partnered with AXA Health who will usually assign a consultant for you.
Add family members to your policy

 Health insurance will commonly let you add some family members to your policy, typically spouse/partner and children. With Equipsme, this is something that employees can add and pay for themselves under their employer's plan. This allows your loved ones to share the benefits of having access to private cover and also any other perks that come with it.
Good for large medical bills
 In the unfortunate event that you require some very expensive diagnostic procedures and treatment, this is where your health insurance policy is most useful.
A hip or knee replacement can cost £10,000 or more, but it may be covered in full if you have private cover.
Without this cover, you may incur long waiting lists on the NHS or have to cover the large bill yourself.
Private room
 Using the private sector will often give you access to private rooms if you are an inpatient or day patient. This can be more comfortable for those in pain and for your visitors when compared to open wards in the NHS – and being mixed-sex can make some uncomfortable.
Access to specialist diagnostics and treatment
 Rest assured that going private still means that the treatment you receive is in line with the same medically recognised and conventional protocols that govern the NHS.
Faster access to physio sessions
For issues such as stiff necks and sore backs, if your condition is authorised for cover by the insurer, private cover will usually give you faster access to physiotherapy treatment, which can be several weeks of waiting otherwise.
At Equipsme, all our plans give access to a dedicated physio claims team who can provide help over the phone, and they can authorise up to 5 physio sessions per year, or no yearly limit depending on the package that you choose. See the full packages available here.
Additional perks and benefits
All Equipsme plans provide 24/7 access to remote GP appointments and an online health check service, to help you manage your health from home. Plus, businesses can add stress support helplines and counselling for employees or benefits to pay towards dentist and opticians costs.
Sources*:
4 million people have health insurance in the UK - https://www.theguardian.com/business/2017/jan/16/private-medical-insurance-sales-surge-health-nhs