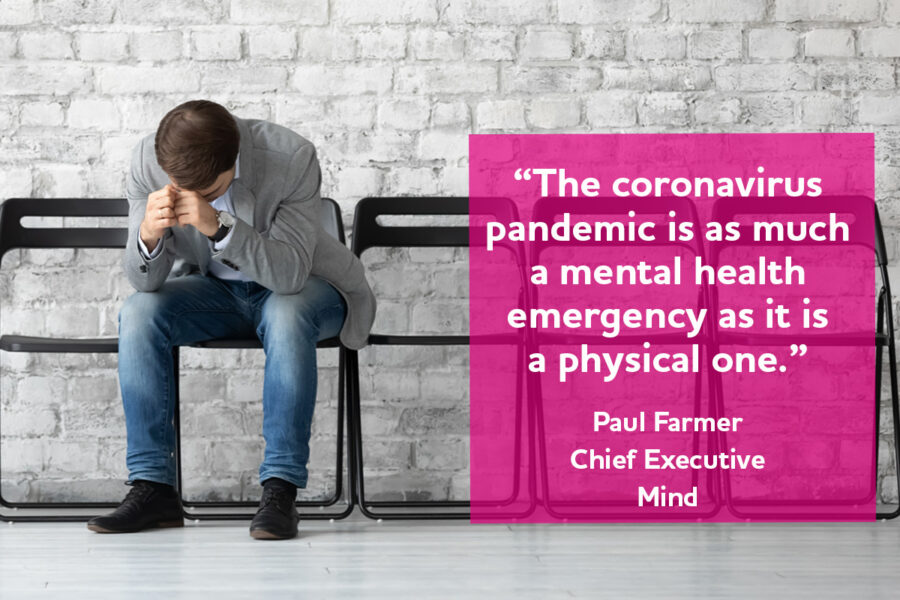 Worried sick – could corona-stress be another pandemic pressure on your business?
Great Britain is worried sick. And given the events of 2020 so far, that should come as no surprise.
From bereavement to redundancies, relationship breakdowns to isolation, health fears to financial uncertainty, there has been a lot to worry about. And as World Mental Health Day rolls around this week, more Brits than ever are finding themselves stressed, anxious, and depressed.
Data from the Office on National Statistics (ONS) found that in the summer one in three adults (33%) reported high anxiety, and one in five (19.2%) were likely to be experiencing some form of depression - nearly double the rate before the pandemic.
All in all, 67% of us admitted we were worried about the effect of Covid-19 on our lives at the beginning of July. Equipsme's own figures show that health itself is driving some of those worries – 76% of people we talked to said they were worried about NHS waiting lists in the wake of coronavirus, and 67% are worried about the NHS's ability to deal with non-urgent and non-Covid related illnesses.
With a second wave of the virus underway, the recession deepening and the prospect of further lockdowns on the horizon for Christmas, Autumn is only likely to see these levels of worry rise, too.
A physical and mental health crisis
Paul Farmer, Chief Executive of mental health charity Mind, describes the pandemic as both a physical and mental health crisis. He says: "The coronavirus pandemic is as much a mental health emergency as it is a physical one. The devastating loss of life, the impact of lockdown, and the inevitable recession that lies ahead will leave a deep and lasting scar on our nation's mental health.
"Those of us who were already struggling with our mental health have fared worst, but we also know that many people who were previously well will now develop mental health problems, as a direct consequence of the pandemic."
The looming tsunami of mental ill health in the UK is one of the coronavirus side-effects that's coming under increasing focus as health professionals warn about its potential impact. And it's become a focus because it isn't just a personal issue, or a social one. It's also a professional and an economic problem.
The toll on toil
The effects of stress on workforces has only begun to be better understood in recent years. Mind describes stress as the tipping point between wellbeing and mental ill health, and it was already costing Great British businesses well before Covid-19 hit.
More figures from the ONS on the labour market show that in 2018, 17.5 million working days were lost in the UK to mental ill health, costing billions of pounds a year in lost productivity, creativity, concentration, and attendance.
While the most common reason for sickness absence was minor illnesses, accounting for 38.5 million days off, the lines between physical and mental health can be blurred. The NHS lists 'minor' ailments like headaches, dizziness, stomach aches, chest pain and muscle tension or pain amongst the most common symptoms of anxiety, indicating a significant cross over.
Meanwhile the Chartered Institute of Professional Development (CIPD) has found mental ill health is now the most common cause of long-term absence, and even before coronavirus was a growing issue for nearly 60% of organisations.
For businesses of all shapes and sizes already under all the other logistical, operational and financial pressures of the pandemic, mental health might seem the least of their immediate concerns, and possibly the first thing on the list to cut support and investment for as belts have to tighten.
Because investment was starting to happen, and starting to pay off. An independent Government review in 2017 highlighted a significant return for employers investing in mental health interventions: an average of £4.20 for every £1 (with a range up to £9).
Healthy minds, healthy people, healthy businesses
Equipsme Founder and Managing Director Matthew Reed says: "It's absolutely crucial that we don't lose momentum on mental health, and that now more than ever businesses invest in looking after the mental health of their employees.
"What every business needs to survive and thrive into 2021 and beyond is an engaged, motivated, and healthy workforce. For smaller businesses in particular, your people are your power. They are the continuity, the energy and the success of your business. Looking after them just makes sense."
For smaller businesses on smaller budgets, though, investment in employee health and mental health has long been a challenge. It's the reason Equipsme came into being – with a mission to put private medical insurance in the reach of smaller businesses and one man bands. It's also the reason the stress support line, provided by Health Assured, can be added for just £1.50 per person per month.
But it's not just smaller businesses that Equipsme can work for. "Too many big corporates still save health as an employee benefit for those higher up the food chain," continues Matthew. "With Equipsme plans starting at just £7 per person per month, it makes covering an entire workforce much more realistic. It's a way to give something back, and alleviate at least some of those health concerns that are understandably contributing to people's current stress levels, with the peace of mind that they've got instant health back-up for themselves and their families. We want to keep people going, and keep businesses going as a result."
Reshaping business to support mental health
Instead of stalling mental health initiatives, Covid-19 could actually provide businesses – particularly bigger businesses - with an opportunity to reshape what wellbeing and duty of care look like, in order to meet the needs of people working often very differently, remotely, and under background corona-stress.
It's a key theme for the upcoming Mad World summit, now its third year, albeit in its first virtual format.
Claire Farrow, Partner & Global Director of Content at Mad World and Make A Difference says: "Putting pandemic recovery plans in place, business leaders are in a unique position to drive systemic change, redefine workplace culture and proactively adopt preventative approaches that support mental health and wellbeing. Some are ahead and have seen the benefits throughout the pandemic. However, many others are struggling to develop and implement inclusive programmes that will have a sustainable impact across their organisation.
"Our mission is to accelerate the shift from stigma to solutions by ensuring every employer has the insights, inspiration and contacts they need to make a difference to workplace culture, mental health and wellbeing."
Matthew adds: "We're delighted to be virtually 'at' the Mad World Summit. Mental health matters. People matter. And people being worried sick needn't infect your business if you can find ways to step in and support them. Mad World will look at best practice, worst practice, and most importantly - real-life, real-time, practical solutions. And that's right up our street."
Come and find Equipsme at the Mad World digital summit on 8th Oct.
Sources
ONS:
www.ons.gov.uk/peoplepopulationandcommunity/wellbeing/articles/coronavirusanddepressioninadultsgreatbritain/june2020
www.ons.gov.uk/peoplepopulationandcommunity/wellbeing/articles/coronavirusandanxietygreatbritain/3april2020to10may2020
www.ons.gov.uk/employmentandlabourmarket/peopleinwork/labourproductivity/articles/sicknessabsenceinthelabourmarket/2018
CIPD:
www.cipd.co.uk/knowledge/culture/well-being/supporting-mental-health-workplace-return
NHS:
www.nhs.uk/conditions/generalised-anxiety-disorder/symptoms/
Government report:
www.gov.uk/government/publications/thriving-at-work-a-review-of-mental-health-and-employers