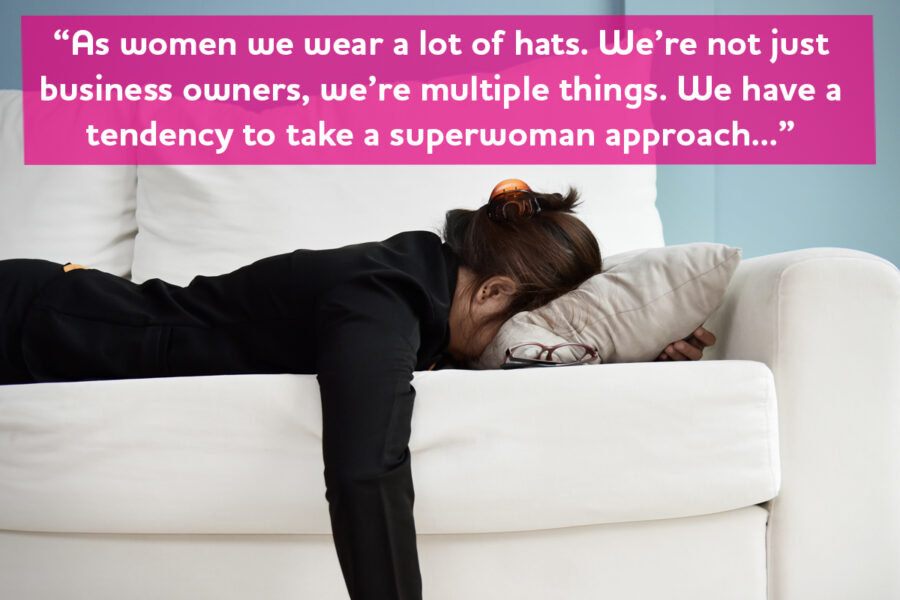 Pouring from an empty cup
What do you do if you're self-employed and you get ill?
If you ARE your business, falling ill can put your whole livelihood at risk. It's something Fiona Grayson, Founder of She Can. She Did. has seen happen to the female entrepreneurs her organisation supports.
In one of her latest podcasts, she spoke to Equipsme's own Rhonwen Beesley, one of the founding team, Operations Director, and busy wife and mum, about why running on empty is a trap so many people – and particularly women – fall into, and how you can fill your cup, protect yourself, your family and your business.
Rhonwen said: "As women we wear a lot of hats. We're not just business owners, we're multiple things. We have a tendency to take a superwoman approach, and end up with these long, long To Do lists where we put ourselves and our own health at the very bottom of them.
"I think the first step to refilling your cup is recognising that. We need to make sure we're layering up on support, and asking for help. It's about having contingency plans for business interruption, and a community of support around us we can tap into.
"It's also about looking after yourself, and putting yourself first for a change. If you don't put your physical and mental health at the top of your To Do list, when things do go a bit pear shaped, you're stuck."
It's exactly why Equipsme introduced the Solo and Solo Plus plans – to help busy self-employed people get everyday health support that fits around their business and their lives, without all the waiting around.
Rhonwen pointed out that it's not just about buying something for the back-up. It's only going to magically help you if you actually use it, which is why Equipsme plans are geared up to be practical, and usable, from 24/7 GP access to physio appointments, nurse support and stress support helplines.
"It's very hard to put yourself high on your To Do list. I talk a good talk, but I don't always do it well myself. But I'm an Equipsme member, too, and when I have needed to use it, it's been invaluable. I've used it when my Dad was ill in South Africa, when the nurse advice line helped me with information on his condition. More recently I've used the counselling service in lockdown, which has been an incredibly stressful time for all of us."
Fiona talked about She Can. She Did. entrepreneurs who'd also faced a health issue, and how it's not always just about you - women are often carers for other dependents, too. She added: "Even knowing about the support available to help those around you can alleviate the stress on you, and the direct consequence of that is stress off your shoulders and some clarity to focus on what you need to focus on."
Rhonwen concluded: "My advice for people is to stop when you need to. Ask for help when you need to. Accept that everything isn't always going to get done, and everything isn't always going to be perfect. Don't put off the niggles, take the paracetamol and soldier on – be proactive. Do the health checks. Make the appointment, and keep it.
"If you would buy a gym membership, or even a cushion or candles to help you relax, think about making a direct investment in your health. Looking after yourself IS looking after your business, and it is looking after your family, too."
For more great advice for women business owners and entrepreneurs, you can follow the She Can. She Did. podcast by becoming a member here.