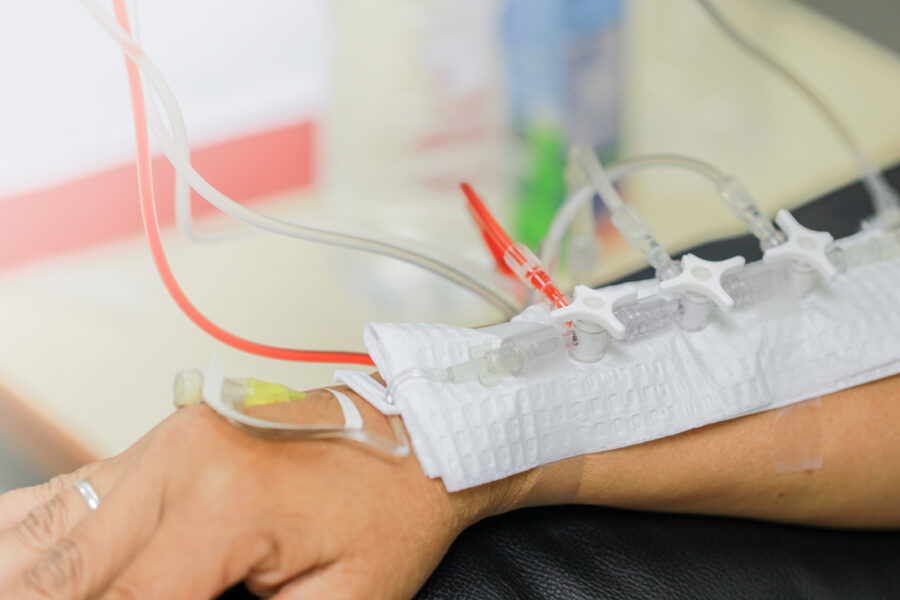 The other Big C – why we need to talk about Cancer
There have been many hidden health costs of Covid, and one of them is the other big C – cancer.
Health experts are warning of a second cancer 'pandemic' off the back of coronavirus, with thousands of people having missed out on both diagnosis and treatment during lockdown.
Hospitals were already facing a huge catch-up job after everything was put on hold for Covid-19, and with the latest lockdown and rising virus cases taking over beds again, that backlog is only backing up even further.
Diagnosis drop-off
Half of us will have some form of cancer within our lifetime, and in the UK we normally diagnose around 7,000 cancers according to figures from Cancer Research UK. That's dropped off to more like 4,000 a week.
Gordon Wishart is Professor of Cancer Surgery at Anglia Ruskin School of Medicine, and founder and Chief Medical Officer of Check for Cancer, and he recently spoke at a webinar hosted by Equipsme partners Howden Employee Benefits & Wellbeing, as part of a panel looking at post-Covid healthcare.
He said: "We screen over 10m people a year in the UK for breast, cervical and bowel cancers. During lockdown somewhere close to 3m people have not been invited for screening, and that's still not properly restarted.
"If we look at diagnostics, in general the referral of patients with symptoms suspicious of cancer has gone down 70% - which is a massive reduction. So we're missing thousands of people who should have been diagnosed with cancer who are still out there somewhere and are obviously going to experience a delay with their diagnosis."
And with cancer, it is fast diagnosis that is absolutely key.
Cancer pandemic
Wishart continued: "I've been using the term cancer pandemic for a long time. I've spent my whole career promoting early cancer detection, because an early stage cancer needs less treatment.
"For something like breast cancer a delay of 3 months might not make a huge difference to treatment or outcome, but in a cancer like lung cancer or bowel cancer that often presents quite late in any case, a delay of 3 months can make the difference between it being operable and inoperable, curable or not."
The estimate, according to Wishart, is that upwards of 30,000 deaths are going to arise from the disruption of cancer services – and those services are likely to face continuing disruption for years not just months to come. Macmillan recently reported that 50,000 cases of cancer remain undiagnosed in 2020, almost 14% of the UK's annual cancer incidence.
As we all get used to the Covid world, that's something people are becoming increasingly aware of. Equipsme's own stats show that some 76% of people are now concerned about NHS waiting lists, 67% are worried about the NHS's ability to deal with non-Covid related illnesses and ailments.
As a result, the number of people who would now consider paying for private treatment or buying health insurance has doubled since the pandemic hit.
Cheryl Brennan, Executive Director of Healthcare & Benefits at Howden said ''As leading healthcare advisers, we have seen an increase in the number of individuals and businesses who are investing in private healthcare. The pandemic has forced us all to put a spotlight on our health and wellbeing and as a result, many people are actively choosing to spend money that they may have earmarked for holidays or socialising on their future health. And employers too are recognising that this is an essential part of their overall employee benefits package. As the crisis continues and the NHS waiting times look set to rise further, so we expect this trend to continue.''
The role of employers and PMI
Wishart believes that employers, and PMI, have an important role to play in cancer care moving forwards.
"Now more than ever we need to look at ways we can help the NHS, help them with screening, and what alternative solutions we can come up with for promoting cancer awareness, cancer screening, and cancer diagnostics," he said.
"Employers can help by looking at cancer awareness, and looking at whether you can get access to cancer diagnostics from your PMI provider. Those are the bits that are going to be missing from the NHS, so trying to come up with an alternative is a really good idea."
Cheryl added: "Cancer will affect many employees during their working life, but there is a genuine worry that cases could escalate in the coming months and years as people have delayed seeking treatment since Covid-19 hit. Prior to Covid, many employers were already recognising the impact a cancer diagnosis can have on an individual's health, finances and family lives and started to offer health benefits to support their workforce wellbeing."
"We know that access to private healthcare is a highly valued employee benefit. In the current climate, employees want peace of mind that they can get the advice, diagnosis and treatment they need quickly. This is essential with cancer and prolonged delays in diagnosis may make the difference between it being treatable or not.''
Some of that is already starting to happen, particularly in bigger businesses. A cancer diagnosis can have a huge impact on someone's ability to work, and in looking after their people - and particularly in helping to catch cancer early - businesses can help them get on with their lives, get back on their feet, and ultimately get back to work.
Awareness, screening and swift diagnosis
Wishart said: "We've seen employers wanting access to cancer screening for their employees either in company, in local clinics, or more recently with at home testing or collection, which has been very important during lockdown.
"We've also seen employers arranging presentations about cancer awareness, so their employees can learn about the signs and symptoms of cancer, what to look out for, what are the risk factors, what can you do to mitigate those risks.
"More recently we've seen corporates asking for insurers to give them access to diagnostic cancer pathways, and making sure pathways are streamlined so you can get to reassuring the majority of people they don't have cancer quickly, and those that are diagnosed can move on to a treatment pathway quickly, too."
Small and medium sized businesses
Matthew Reed, Managing Director at Equipsme, said: "At Equipsme, we want the benefits that big corporations have to be available to small and medium sized businesses as well. Every business of every size has a vested interest in looking after their workforce, and every business should now be talking not just about Covid, but about cancer too.
"As Gordon points out, the really key thing is to get a timely diagnosis - and that's something we do. We can get you to a 24/7 GP fast, and if you've got diagnosis as part of your plan we can get you referred to the right specialist fast, too. If cancer is diagnosed, our dedicated cancer support nurses will guide you back to the NHS.
"We don't include cancer treatment for the simple reason it's often very expensive and very complex, requiring a coordinated response that can best by organised and delivered by the NHS. We made that choice precisely so we could make private health insurance affordable and accessible for more businesses - and more of the individuals that work for them.
"The idea is to provide practical everyday healthcare that can take pressure off the NHS elsewhere, and save it for the vulnerable, including those with serious conditions. We think that helping businesses take care of their people and helping people take care of themselves is more important now than it's ever been – not just because of Covid but because of the knock-on effect it will continue to have on all of our health."
To watch Howden's Changing Healthcare landscape webinar in full, please click here.
How to start talking about Cancer
November is lung cancer awareness month, and pancreatic awareness month. You can find resources here:
https://be.macmillan.org.uk/be/s-536-cancer-awareness.aspx
https://www.lcnuk.org/news/lung-cancer-awareness-month-play-your-part
https://www.pancreaticcancer.org.uk/get-involved/pancreatic-cancer-awareness-month/
Equipsme explains
What is screening?
Screening is a way of identifying apparently healthy people who may have an increased risk of a particular condition. The NHS runs several screening programmes, including for breast cancer, cervical cancer, and bowel cancer. Healthy people in at-risk groups are invited in for regular tests to spot things early - like abnormal cells that could lead to cancer. Screening isn't covered by your Equipsme plan.
What is diagnosis?
If you've got a symptom that could be indicative of cancer, you need to see a specialist to get a diagnosis. Typically this also involves tests and scans, depending on your symptoms. Getting the right diagnosis fast is key in dealing with cancer effectively, and it's part of the Diagnosis and Treatment cover on Equipsme plans.
What is treatment?
Once cancer is diagnosed it will need to be treated. With cancer this can involve surgery, chemotherapy or radiotherapy, amongst other treatments. At Equipsme you'll be guided back to the NHS after your diagnosis to begin your treatment plan.